Have your authorized dealer check your staircase!
Before placing an order for a stairlift you should ensure the staircase has been assessed to make sure it is suitable for the stairlift you have chosen. It is rare that a stairlift cannot be fitted to a staircase but some systems may have limitations that mean they are not suitable for your home.
You do not need to worry about surveying your staircase; Your authorized Handicare stairlift supplier will do this for you. They will advise you of any adjustments required to fit your stairlift (e.g. move a heater) and which is the best side of your staircase to fit your stairlift.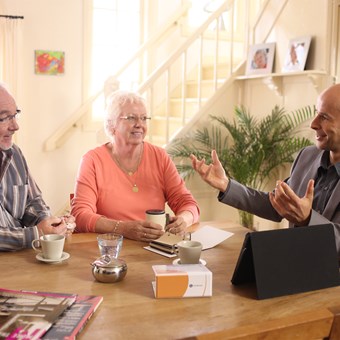 User assessment:
Your stairlift supplier is happy to help!
Stairlift seats and systems vary between manufacturers. Whilst it is rare that a stairlift is not suitable, carrying out a user assessment is advisable.
This allows your supplier to not only double check that the dimensions of the lift are suitable for the user and the location, but it also allows them to specify which side controls should go and to discuss the possibility of adding powered features to make using the stairlift even easier.
These may not be needed now but could be of huge benefit in the long term.
Your Handicare stairlift supplier will normally wish to conduct a user assessment at the same time as conducting the staircase survey. During this assessment some measurements may be taken to ensure the stairlift chosen is suitable for the user. There will also be some simple questions to see which would be the best side to place the controls, what sort of seat belt would best suit the users and to ascertain which features would be required now and in the future.
The assessment is non-intrusive and whilst it is preferable that this is conducted in advance the non-availability of the user will not prevent the supply of a stairlift so long as someone will undertake to provide the information on the user's behalf.
Handicare's stairlifts are designed to cater for a wide range of abilities and carry a series of adjustments (e.g. seat height) that can be performed during installation to tailor the stairlift to suit the user as required.
PhotoSurvey :
For quick and easy staircase surveys
Most staircase surveys are very quick and easy to perform. If your staircase is more complex with intermediate landings, fan stairs or a spiral for example, the survey may be conducted quickly with Handicare photographic survey systems (PhotoSurvey). Handicare's curved stairlift tracks are designed to suit your individual staircase so it is important the staircase is measured accurately to ensure your track is the best possible fit for you and your staircase.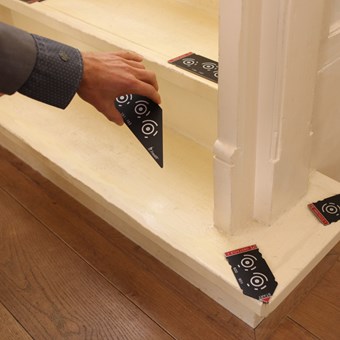 Most Handicare dealers use our photographic survey systems for surveying curved staircases. This specially developed electronic system maximises the accuracy of a curved staircase survey whilst minimizing the time needed to carry it out. Cards are placed on and around the stairs and photographed. Our specialist software measures these images to create an accurate 3D model of your staircase so the track is designed to fit your staircase perfectly.