Our multi-storey stairlift
The Vermeer has been designed specifically for multi-storey houses and apartment block stairwells. Also, for houses with a spiral staircase this stairlift is the best solution.
In principle it is identical to the Rembrandt and Van Gogh in terms of technique, appearance and materials. Standard with foldable footplate and swivel-seat.
All our stairlifts are tested and approved by worldwide independent inspection services. This gives you the assurance that all our products meet the highest standards in terms of quality and safety.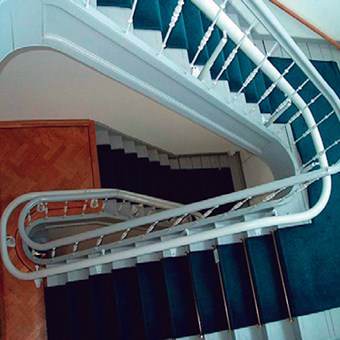 Choose the seat you like!
The Vermeer stairlift can be supplied with the Elegance, Basic or Classic seat: You will always find a seat to suit you. All seats are available in a range of colors, ensuring they always blend in with your home!

Elegance seat
The Elegance seat combines elegant design with refined comfort, due in part to its super-soft upholstery. The seat is lightly padded and has a stylish upholstery with a luxurious feel. The upholstery's protective layer means that the stairlift seat is both durable and easy to clean. The armrests can be adjusted outwards to create a wider seat.

Basic Seat
A simple but stylish design. The Basic seat represents affordable convenience: The perfect combination of ergonomic design and sitting comfort. The Basic seat comes in a range of colors and a choice of wear-resistant fabric or cream-colored leather-grain finish.

Classic seat
Out best selling Classic seat is extremely comfortable. The seat has been designed together with physiotherapists and occupational therapists. The Classic seat comes in a luxurious, but easy to clean, leather-grain finish.
Functions of our stairlifts for your convenience
Folding up your stairlift
When your stairlift is not being used you can fold it up to maximize free space in your hallway. The footplate, armrests and seat can be folded up to increase available space leaving the staircase as clear as possible for other users.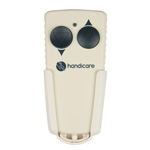 Calling your stairlift 
All Handicare stairlifts come with two remote controls as standard, so you can have one upstairs and one downstairs. This means you can send your stairlift up and down the track without having to sit on it. This not only allows you to park at the top or bottom of the stairs, it is ideal for multi-user situations as your stairlift can be called between levels, just like an elevator.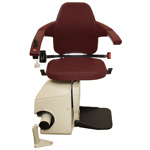 Swivelling your Handicare seat
When you arrive at the top of the stairs you will need to swivel your seat round so that you exit onto the landing safely. Handicare supplies all seats with a manual swivel function as standard. The Van Gogh, Classic and the Elegance seats can have auto-swivel functions as an optional extra.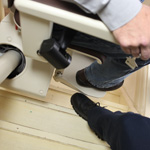 Safety as standard with Handicare stairlifts
Whichever Handicare Stairlift you choose safety and peace of mind comes as standard. All Handicare stairlifts have safety sensors on the power pack and footplate; these are designed to stop the lift if it meets any obstruction. Once stopped it can only be moved away from the obstruction.
Your stairlift will also come with a seat belt as standard for additional peace of mind. All Handicare stairlifts have an easily accessible key switch that allows you to disable the lift and prevent unauthorized use so do not need to worry about unsupervised children playing with your stairlift.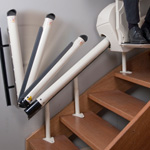 How about a hinged track? 
If you have a doorway or obstruction close to the base of your stairs you may need a hinged track. This means the track can be folded away from the doorway giving clear access. This option is available on all our stairlifts.