The sleekest track in our range.
The 1000 provides comfort and support and gives the option of upgrading with powered features. In addition to this the anodized aluminium rail offers a stylish solution with a hidden gear rack. Moreover, the 1000 is the narrowest straight stairlift track on the market which can also be installed outdoors.
All our stairlifts are tested and approved by worldwide independent inspection services. This gives you the assurance that all our products meet the highest standards in terms of quality and safety.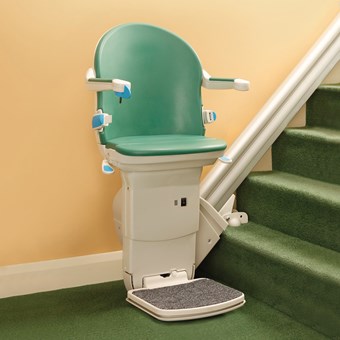 Choose your most convenient seat.
Smart seat
The seat is supplied with wipe clean, flame retardant upholstery in a choice of six colors. You can even replace upholstery later should you wish to change your color scheme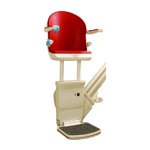 Perch seat
The Perch seat proved the ideal option for users with limited hip and knee flexibility. A Perch seat means that the user is almost in a standing position when they are using the lift. There is a shortened seat and retractable seat belt which provide a stable support area for users to 'perch' on.
Functions of our stairlifts for your convenience
This top of the range system gives you optional powered footplate and powered swivel and has the power to fold itself away then park on its charge point once you have finished using it. This ensures the staircase is always left clear for other users or emergency access and the lift is always left on a charge point.
All stairlifts have safety sensors on the power pack and footplate: these are designed to stop the lift if it meets any obstruction. Once stopped it can only be moved in the opposite direction of the obstruction.
We also supply our stairlifts with an easily accessible key switch that allows you to disable the lift and prevent unauthorised use so you do not need to worry about unsupervised children playing with your stairlift.